November 2008
Innocent Man single release date
The current release date for the first Mark Morrison release on his label has been announced as 8th December 2008 and is going to be the Innocent Man single featuring DMX. It is anticipated this will be followed by the Innocent Man album which should be released early 2009. It is also expect Mark Morrison will release his Best of… King of British R&B album on the label and rumours are circulated that the album entitled "The Show Must Go On" will also be released in late 2009, watch this space.



August 2008
Global Music Group Record Deal
Mark Morrison has once again moved record labels, his new home is a little known record label called Global Music Group. This label is recently thought to have acquired the assets of Death Row and as you would expect with an acquisition like that it is expected to be a major force in the record industry. It is also expected to make major signings in the coming few weeks, including DMX and Lil Mo. This deal is aimed at bringing Mark Morrison to the forefront of US R&B music, and claim his status as an international R&B star. Also as the Innocent Man album was never officially released in the US this is an opportunity for the album to be showcased in the US.



April 2006
"Innocent Man" official release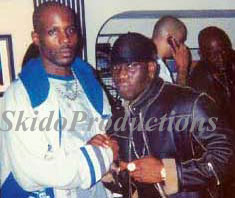 After much anticipation the next official release from Mark Morrison will be the single "Innocent Man" featuring DMX releasing on 10th April 2006. This will be followed promptly with the release of the album titled "Innocent Man" on the 17th April 2006. These releases are with the label Mona Records. Keep checking this site for further detailed information on the track listing for the album and single. As reported previously first by www.markmorrison.co.nr the album release will contain a DVD which will feature 5 music videos for the following songs: "Just A Man", "Innocent Man", "Dance For Me", "Blackstabbers".



March 2006
Knockout return
Mark Morrison has asked his friend Mike Tyson to help him with the promotion of his new album "Innocent Man". Tyson was in the UK and Morrison asked him if he could join him for a promotional event in Brighton. As a result the night was hosted by Tyson.



January 2006
Mark Morrison latest
Mark Morrison has been spotted with Rihanna in Barbadoss sunbathing, as you can see in the photo. It looks like he spent the new year/ Christmas with her, we do not believe it was to work on a new single!!!!! Three club mixes have also been recorded for the Innocent Man single with Dap-C, who in 2004 signed a management deal with Mark Morrison. More information on Dap-C can be found at www.Dap-C.com. Thank you Craig for the info!!!


October 2005
Remixes for the Innocent Man single
Mark Morrison has been in the studio with Dap-C recording remixes for the Innocent Man single featuring DMX. We haven't heard this version, so can not pass judgement on it. It now seems likely that "Innocent Man" will be the next single and it is likely to be released early 2006. We can also now confirm that DMX does feature in the "Innocent Man" video.




August 2005
New single form Mark Morrison
The new single form Mark Morrison is set to be "Dance for Me" featuring Tanya Stephens. We cant officially confirm this, although there is a possibility that this may change as we are hearing conflicting results constantly, the other contenders seem to be "Backstabbers" or "Innocent Man". We will update you soon as we have any information.




July 2005
Mark Morrison to release his album and a DVD
Mark Morrison is set to release his much anticipated album "Innocent Man", on general release in October 2005, we believe it will be accompanied by a DVD which will the music video to three of the songs on the album. The music videos are for: "Just A Man", "Backstabbers", "Innocent Man", "Dance for Me". This album is set to be release through Morrison's new record label Mona Records. This album will be similar to the album released in December 2004/February 2005 but this version will contain the DVD.




May 2005
Mark Morrison has signed with a new record label
Mark Morrison has officially departed company with his previous record label and has signed with the record label Mona Records UK. We think this is the right move for Morrison as his previous label did not do much to help him comeback. We do not know much about this new as well as the only downside is this record label, like Morrison's previous label is newly established, let's hope history does not repeat itself! More info on this deal will be available as soon as we know.




Mark Morrison escapes near death
Mark Morrison was involve in a jet-ski accident in which he fell unconscious for sometime at the the scene of filming the video for his "Dance for me" single whilst in Jamaica. More info to come soon. ........................




February 2005
Mark Morrison "Just A Man"
Mark's previous record label 2Wikid have finally decide to release his album entitled "Just A Man". This album is very similar to the album released earlier in December by Mark's own label. No comments on this album from 2wikid have been made by Mark or 2Wikid. It does seem likely that this record label is now set up although some would claim that the label never actually started!!




December 2004
Mark Morrison "Innocent Man"
The long awaited album from Mark has finally been released although after much controversy concerning issues with his record label 2Wikid, which Mark now says he is no longer with. This Innocent Man album has been released under Mark's own record label Macklife and features a slightly different tracklisting and mixes then the planned version under his previous label.